I've known Gregory Paul for a number of years. When I launched OnlineRock Records in 2002, Spirit and Decibels (from his band at the time) was one of our first releases. Since then Gregory Paul has recorded a number of albums and has toured around the country. Relocating to Seattle from Rochester, NY in 2009, he continues to perform and record. The Fremont Abbey Session is his most recent release. The album was recorded live in the great hall of the Fremont Abbey Arts Center in Seattle and captures the natural reverb of the room.
Paul returns to the Fremont Abbey this Friday, April 20th. We have the track The Day We Met from the album The Fremont Abbey Session below.
More about the Album: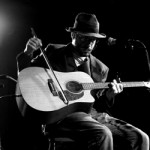 Gregory Paul plays a Gibson Advanced Jumbo acoustic guitar and is joined by Holly Merrill who sings vocal harmony. Additionally, what makes this recording session interesting is that it was recorded onto analogue tape (1/4 inch) using two Ribbon microphones.
Jason Frazier, who recorded the session, was an in-house and remote recording/sound engineer at a NPR radio station in Florida and worked as a classical music recording engineer at Vanderbilt's Blair School of Music.
"I record using a stereo microphone technique similar to classical music recording practices. My aim being to capture the performance as played in the acoustic space. Basically having you to play a live "un-amplified" show for a pair of microphones." Says Frazier, "This technique works really well for both solo and accompanied performances and provides a super high fidelity and detailed sound."
Most of the songs were recorded in one take. It's a reverb heavy album, but with a live, organic sound. The Cowboy Junkies' Trinity Session was done in a similar fashion and was also recorded live in a church.
For more info:
www.facebook.com/GregoryPaulMusic