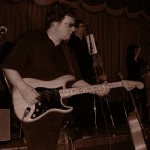 The Noise Room is Steve Beck's home on the web. As both a musician and a music fan, I will post music news, information, and media as well as tips, opinions, and more. Most of the articles and interviews on this site have been written and conducted by me however I've been using AI to help generate ideas. Please reach out if you find errors. I will also share music and videos that I've participated in creating or that influence me in some way.
The Noise Room is also the name of my home recording studio which includes Pro Tools and the new MBOX Studio from Avid. I recently created the MBOX Studio User Group on Facebook. This group is intended for users of the MBOX Studio and associated DAWs.
Although I play and record with a few different musicians, my main project is Needle. We released our debut CD Songs Your Mother Never Sang You and have toured in support of it. Julie Cornett and I co-wrote, recorded and produced the album in the Noise Room (before it was called that). Our follow-up release is entitled Saint Timothy's. The seven-song EP was mastered by Kramer. We just released The Long View on July 17th, 2020. We enlisted Dana Colley (Morphine, Twinemen, Vapors of Morphine) to play saxophone on a few tracks and Kramer (Low, Galaxie 500, Daniel Johnston) once again mastered the project.
More About Me:
In 1999 I started the website OnlineRock. The vision at that time was to create a networking site where musicians could create websites, interact with industry professionals, and sell music instantly in a digital format directly to fans. Kind of like Facebook meets iTunes.
During my time at OnlineRock I launched an independent record label. Its catalog includes releases from Needle, Gregory Paul, Autumdivers, and Ike Willis as well as a few compilations. I have written a number of articles and reviews for the site and have conducted interviews with the likes of Todd Rundgren, Adrian Belew, Trey Gunn and Doug Martsch.
In September 2005 the US State Department sent me to Montenegro to share my views on Intellectual Property Rights as it pertains to the music industry. In June of 2007 I traveled to Sierra Leone on behalf of the US State Department to speak and participate in a conference entitled Moving the Music Industry Forward. Later that year I visited Zambia to discuss Music as a Business with musicians, club owners and government officials.
Other speaking engagements include the Inside Connection Music Conference in Los Angeles where I addressed the issue of "Music on the Internet" and at the Call to Arts Summit on the "Promoting your Music" panel. I also served as Chairperson of the Arts Commission in the City of Belmont, California. Most recently I spoke on the "Paper Cuts in the Plastic Age" panel at SXSW.
Thank you for visiting the Noise Room. If you have a project to discuss, music to share, or would just like to drop me a line, please feel free to contact me.