After returning from Sierra Leone, the US State Department asked me to go back to Africa and talk to musicians about the industry. I thoroughly enjoyed my travels to Sierra Leone so I signed on.  After about thirty hours of travel I arrived at the Lusaka Airport in Zambia and met Keisha Lafayette, the Public Diplomacy Officer for the US Embassy. She and the driver took me to the Taj Pamodzi Hotel and helped me get settled.  Keisha suggested I get some rest as we had a dinner scheduled for later that night.  She also mentioned that it would be a busy week.
Lusaka is the capital of Zambia, a landlocked country in Southern Africa bordered by at least eight other countries.  It's roughly the size of Texas with a population of over 11 million.  While it is know for it's spectacular wildlife and its natural beauty including Victoria Falls, about 73% of Zambians live below the recognized national poverty line.  Per capita annual incomes are currently at about $395, which places the country among the world's poorest nations.
After a few hours of downtime and a long shower, Keisha and Betty Nalungwe (Cultural Affairs Assistant) picked me up to go to dinner with some of those involved in the Zambian music industry.  The restaurant was beautiful and the food hit the spot.  Under encouragement from some of the guests, I tried a locally brewed beer called Mosi.  I enjoyed it with dinner as well as the engaging conversation then headed back to my hotel to get some much-needed sleep, as the next day would be jam-packed.
– Day One –
The driver picked me up in the morning and we headed to the American Corner for a press briefing that was designed to spread the word about the events for the week.  Our goal with these events was to show that the music business could be developed into an industry that generates income and could possibly support the livelihood of those involved.  This would have to be done by realistically understanding who had actual talent and supporting them with a well-rounded music scene.  Key factors include the cooperation of labels. studios and radio stations as well as clubs, journalists and distributors combined with efforts to control piracy.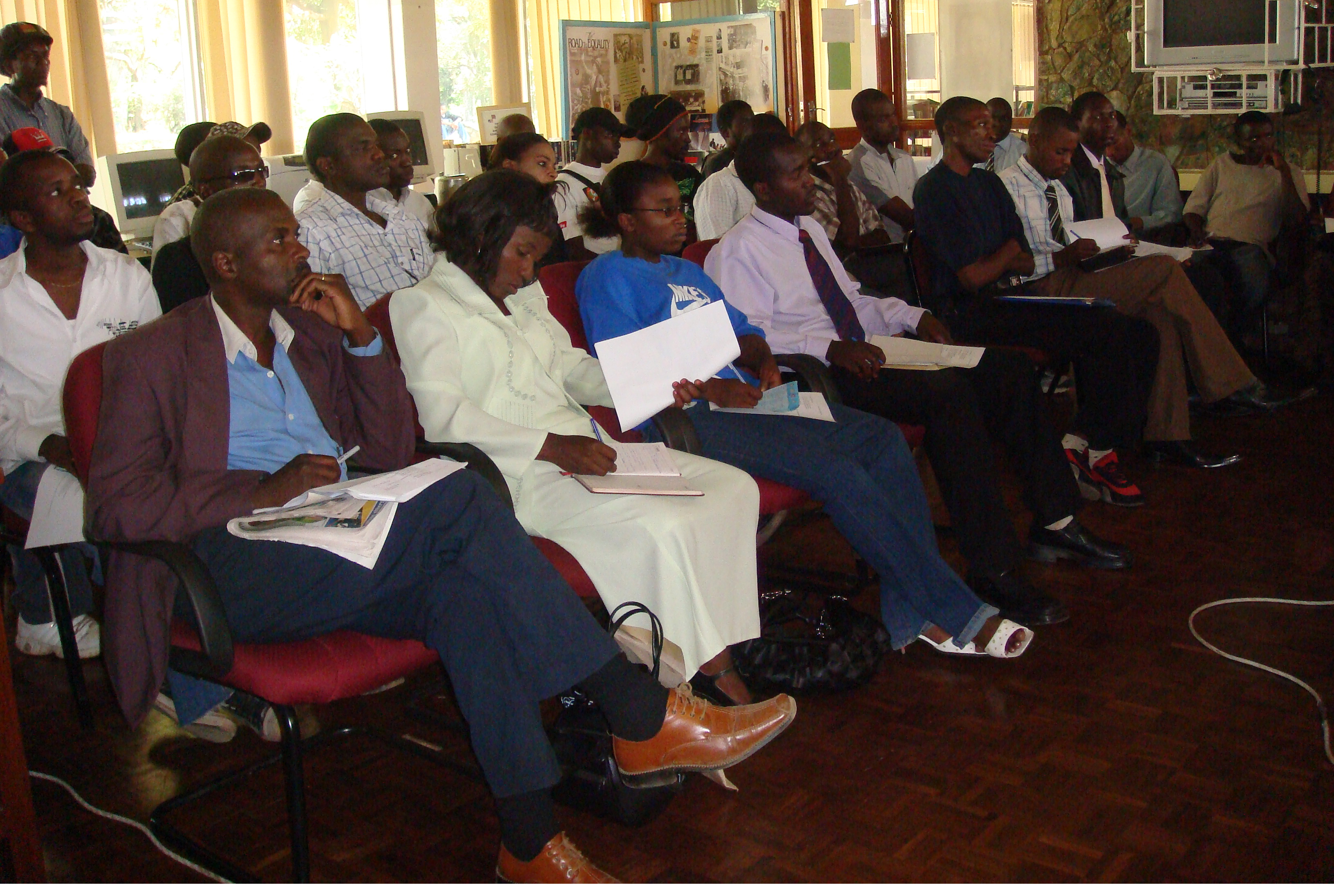 Music as a Business Seminar in Zambia
The press conference was done in conjunction with Keisha going onto Kwacha Good Morning Zambia the Saturday before.  This is a news and entertainment show similar to Good Morning America but broadcast only on Saturdays.  Slowly throughout the week we were able to get our events some coverage on radio, television and the newspapers.  I even found some mentions on the Internet.
Later that morning we had our first seminar with local musicians and labels entitled "Key Elements of a Successful Music Business".  I started out with a presentation that described the development and structure of the US music industry, the key elements that I find necessary to keep the industry functioning, and a few tips that have helped me out over the years.  I concluded with my thoughts that music is art and not just a business and those that are involve in this industry need to keep that in mind.
After the presentation we opened it up for questions and discussions.  What seems to happen during these Q & A sessions is that many people understand that a lot of hard work and persistence are needed in order to be successful while others look for quick answers on how to succeed.  These people seem to get frustrated, as there is no clear and easy path to making it.  Success in any business takes hard work, determination and talent.
That afternoon we had a round table discussion on Music Copyright.  I do not consider myself an expert on this topic but I did have to deal with a number of issues relating to copyright in my business.  Those involved included an International Trade Specialist from the US Department of Commerce, the Director and Chairman of NAMCOPS (the Zambian version of BMI/ASCAP) and members of the National Arts Council of Zambia among others.  The discussion focused on copyright issues and how the different organizations could work together more transparently.
– Day Two –
The next morning I had an interview scheduled with a local radio station but for some reason they had to cancel.  This gave me some more time to prepare for my next talk with radio DJs.  My plan was to explain how royalties were collected and distributed and what it took to get music played on stations throughout the US.  I also wanted to show the different radio station structures such as commercial, public and college.
Once again we opened it up for discussion and comments.  A few of the DJs were of the opinion that the artists and labels should pay the DJs for getting them exposure while others saw it as a stepping stone for gaining alternative opportunities.  This is similar to the US as DJs, because of their trend setting play lists, sometimes rise to notoriety.  We also discussed that many independent artists never get any radio airplay but still manage to have a successful career.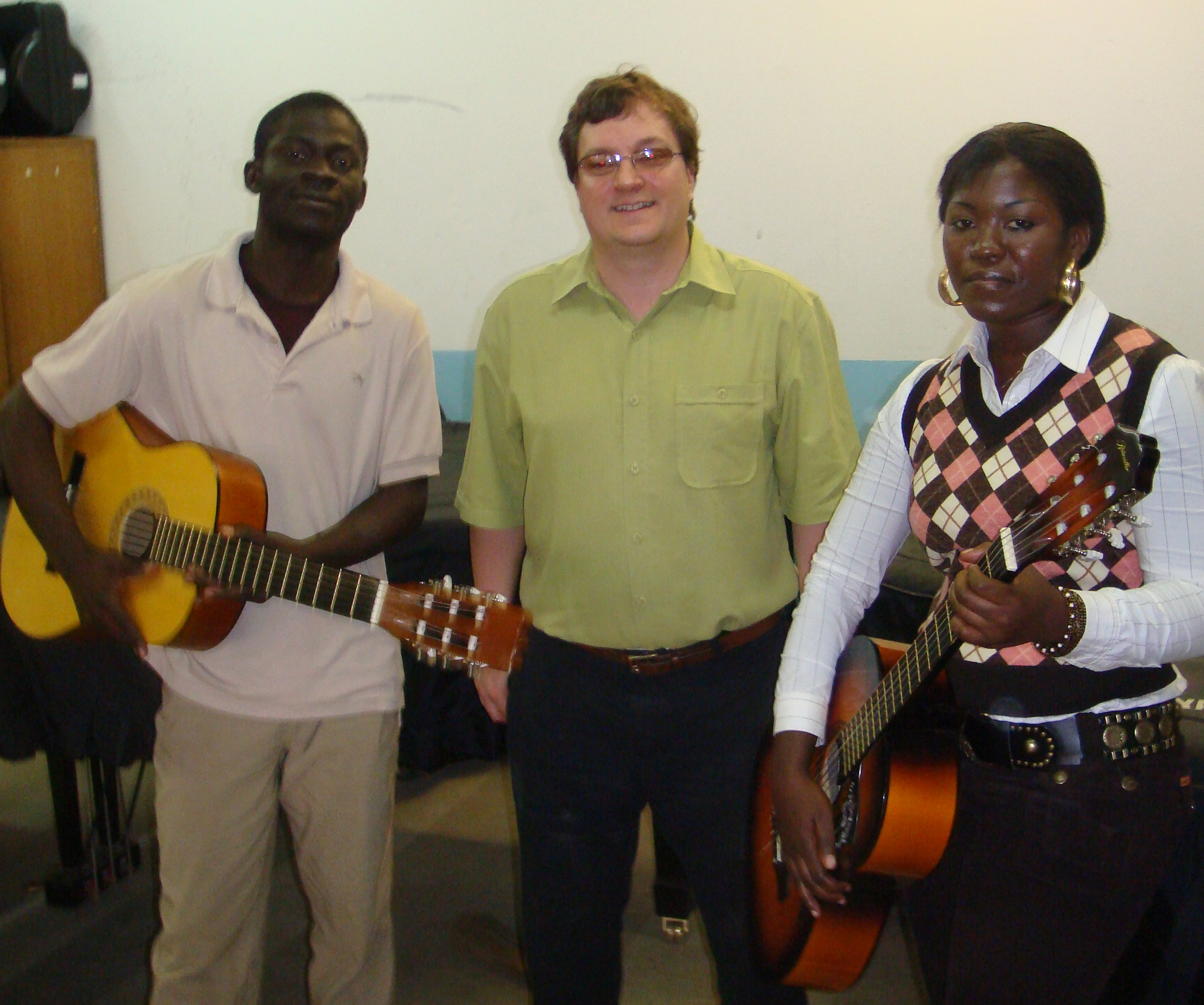 Steve Beck with students from Evelyn Hone College in Zambia
After lunch we headed over to Evelyn Hone College where I was to speak to students about different paths they could take in the music industry.  From my understanding, students would go to this school to learn how to teach music to others.  It seems as though they could expand their curriculum to encompass other aspects of music training from recording technologies to business classes.
Before my presentation one of the students played and sang a beautiful song to welcome me to their college.  It was touching and after my talk and the Q & A session I got to interact with him a bit more and even play his guitar a little.  A lot of the students seemed particularly interested in what I had to say.  A number of students mentioned that even with a degree from the college, it would be very hard for them to find a job while others saw this education as a springboard for other musical endeavors.
– Day Three –
I checked out of the hotel early the next morning as we were heading north to the Copper Belt area.  One of Zambia's main natural resource is copper and by visiting this industrial area, we could reach more musicians.  This would be about a four-hour drive and for me it was nice to see some of the country.
When we arrived in Ndola, our first stop was to visit the Minister of the Copper Belt.  This was a brief meeting and he seemed happy to have us and hear about our mission.  We talked about music and piracy issues and, after some tea and cookies, he thanked us for making the trip up north.  Afterwards we met with a number of law enforcement officials before heading out to lunch.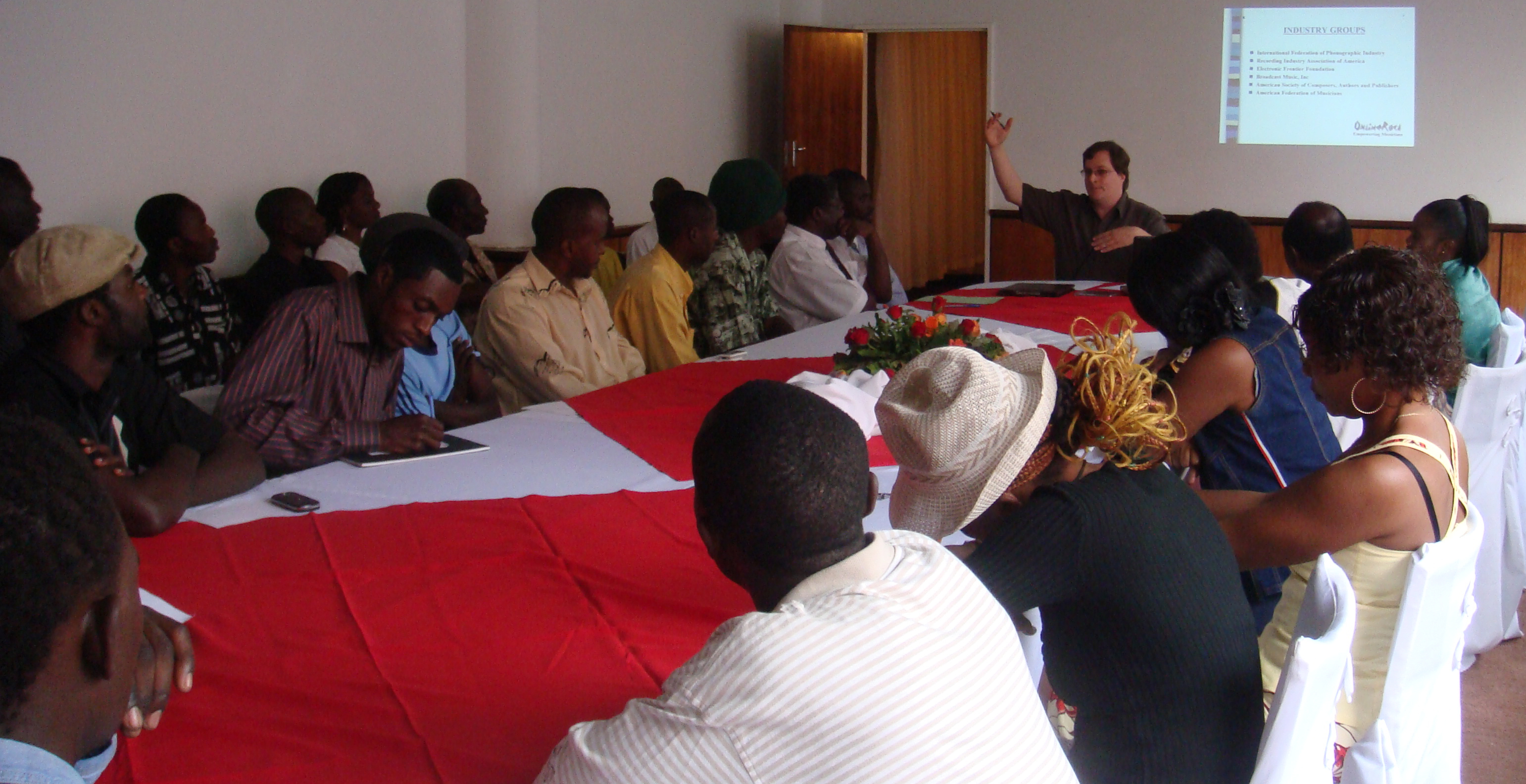 Key Elements of a Successful Music Industry seminar in Ndola, Zambia
That afternoon I did of another version my first presentation "Key Elements of a Successful Music Industry" but to the musicians in Ndola.  They had many of the same questions but I started to realize something.  It seemed that the basic structure of the music industry in Zambia was very similar to the US only on a different scale.  You have a few large stars that everyone knows and who get played frequently on the radio.  Then you have a middle tier of musicians who work on their craft by building their own studios, playing in bands or working with a small label.  Some of these have CDs out or are working on them now.  Finally you have those who treat music as a hobby and something that is fun to do but it will most likely never amount to a career.
This was very enlightening to me.  I was now getting a better understanding of what the musicians in Zambia were facing.  The funny thing is that it's almost exactly what musicians in the US are facing.  Where do they get their music played?  How do they sell more CDs?  What can be done to cut down on piracy?  This fit in with what I've been talking about.
That night we stayed at the Mukwa Lodge in Kitwe.  The lodge was a pleasant retreat with a lot of wooden masks and outdoor sculptures.  They also had a restaurant that we had dinner in.  I once again tried another of the local lagers.  This time it was Rhino, which is known as the "Pride of the Copper Belt".  After dinner we retired for the evening, as tomorrow would be another seminar in the morning and a four-hour drive back to Lusaka in the afternoon.
– Day Four –
We had a light breakfast and checked out of the lodge then headed to the American Corner in Kitwe.  Since very few of the musician I met had a website, this seminar would be about promoting your music on the Internet.  I knew Internet access might not be available at the time so I put together a number of screen-shots and planned on showing people how to create an MP3 file, start a MySpace page and use other free services to promote their musical endeavors.  If we did have web access, I would then work hands-on to show how easy it could be.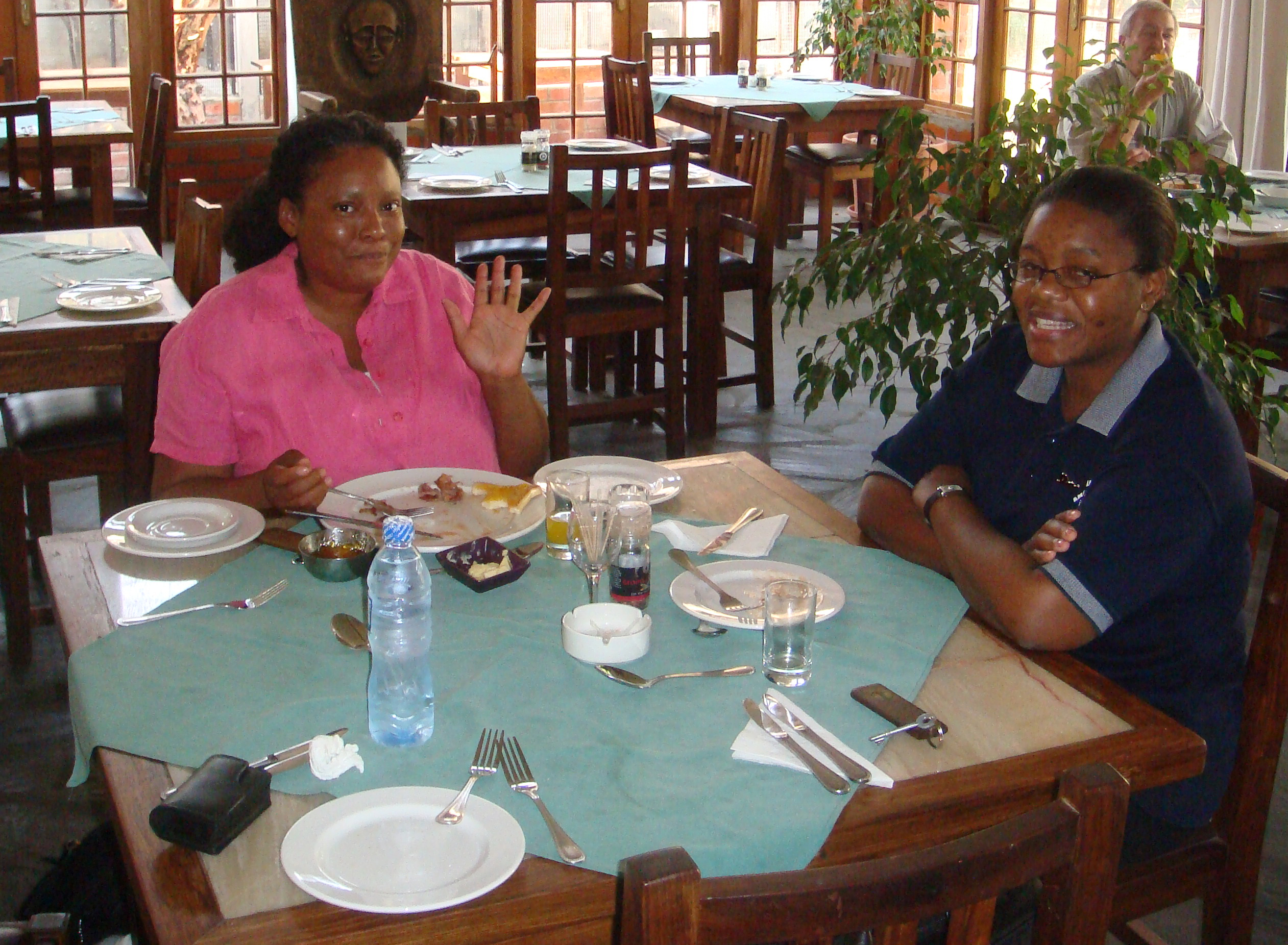 Keisha Lafayette (Public Diplomacy Officer) and Betty Nalungwe (Cultural Affairs Assistant)
Shortly after I began explaining some basic information about the Web and how it could help musicians reach a larger audience, the power went out.  Not only did we not have Internet access but I also couldn't show screen-shots of the web sites that I was talking about.  I scrambled for a bit and then started going over some points that I had given in other presentations.  This lead to an open discussion that I felt was the most productive one of the whole trip.
There were questions from people who could just sing asking how they could become successful and there were comments from studio owners who work hard building their studio and clients.  Soon these people were talking to each other and not just to me about their ideas in the music business.  As the session came to an end, most of these people stayed around and continued the discussion.  I feel that this is the goal of these presentations, not just to present information but also to open up ideas that get people talking and working together.
On our way back to Lusaka we picked up some sandwiches at the Sherbourne Guest House and started the four-hour drive.  About halfway through our trip we stopped to refuel and were surrounded by a number of people selling pirated CDs, DVDs and tapes.  The music was mainly from Zambian artists and could be purchased at almost any price that you were willing to pay.  Obviously none of the income generated from these sales would ever get back to the artists themselves and I was able to see the scale of this problem firsthand.
– Day Five –
We made it back from the Copper Belt Friday evening and got a good night sleep.  It was now Saturday, my last full day in Zambia with only two appointments left.   The first was an appearance on Kwacha Good Morning Zambia.  Both Keisha and I were interviewed for the program where we talked about the events of the past week.  We also used this time to publicize the final event of the week, a meeting with club owners at the Brown Frog.  Musicians were also welcome.
The Brown Frog is a live music club in Lusaka.  It's got a nice size stage, plenty of room for the audience and a green room in the back.  It seems like all types of music happens there including hip-hop, rock and salsa.  The owner was very friendly and realistic about the music scene.  His key to survival is diversification. He is developing plans to build a music education facility at the club where students could learn about recording techniques and live sound theory.
At three in the afternoon many club owners are either waking up from the night before or getting ready for the evening ahead.  This had an impact on our turnout. However there was a small group of musicians, some that I had met before, so we all sat around a table and talked about music.  We shared our perspectives of the music industry and explained how things operated in each of our countries.  Afterwards they took me outside and showed off a banner that was made to promote their next show.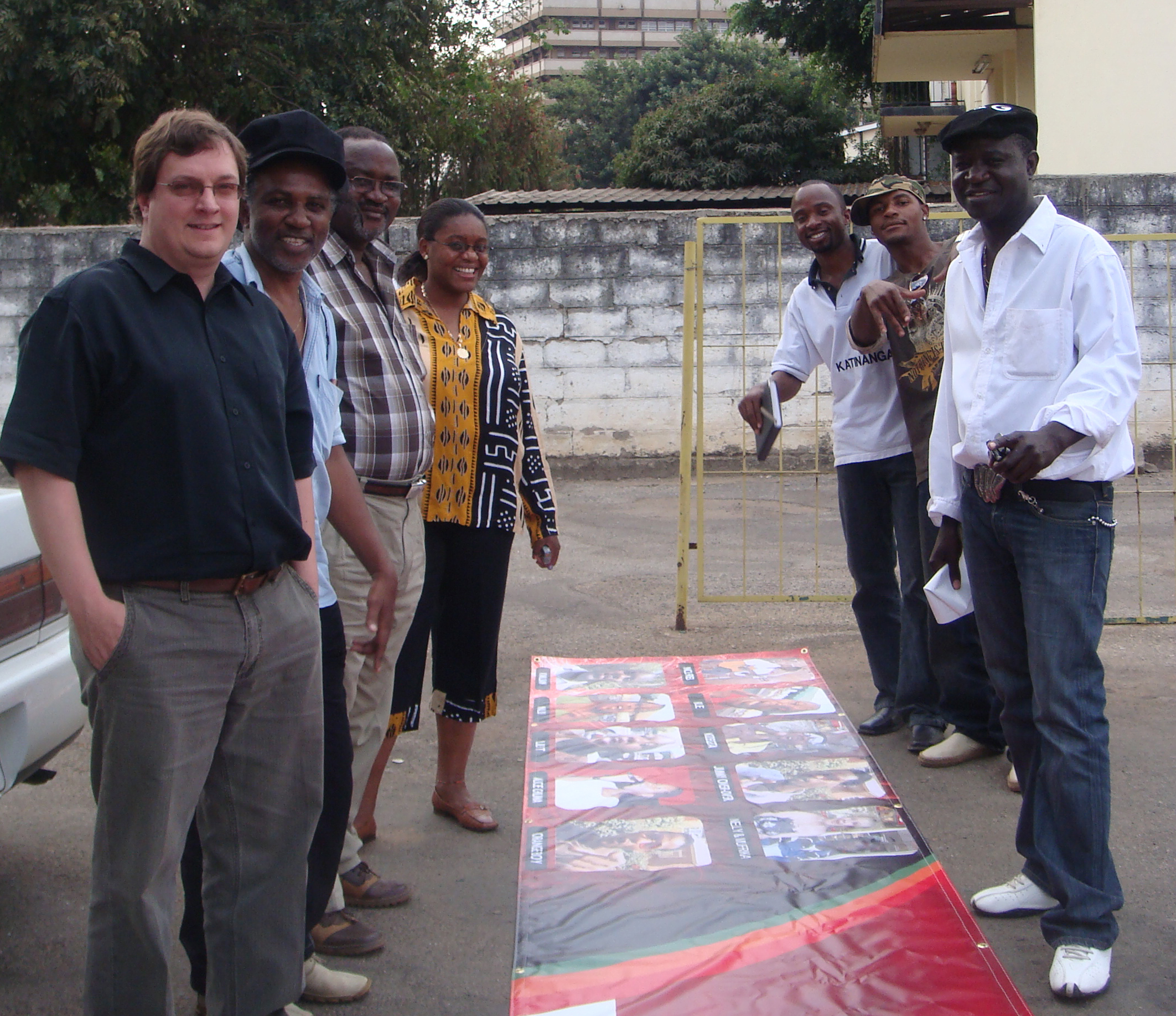 Steve Beck and Betty Nalungwe with Lusaka Musicians
The next afternoon I was heading to the airport and preparing myself for the thirty-hours of travel.  I was impressed with how many people we were actually able to meet and it felt as though we accomplished our goal, which was to introduce the idea that music was not only an art form but also a business that, if approached properly, could sustain a livelihood.
Both Keisha and Betty were instrumental in achieving this goal and making the whole week possible.  They had the vision and connections to reach out to the musicians of Zambia.  I'd like to thank them for their graciousness during my stay and their flawless organization that made the trip smooth.  I'd also like to thank Gretchen Weintraub in Washington again, as she handled all of my travel arrangements and visa issues.
Free Music From Zambia:
The song Bana Lengwe by Chifwe Mwale and the C.M Beats Band from the album Kolonganya. The singer says, "Why do those of us that are still living continue to differ over petty issues even after losing so many of our beloved friends". A message of unity to fellow musicians.
Originally published at OnlineRock