Happy New Year! I hope 2012 was as productive as you planned. For me I was able to expand the Noise Room by creating some product videos, increasing gear reviews, and doing a series of interviews around SXSW. While my iPad Music Creation panel submission was not accepted for SXSW 2013, I was able to explore some new apps and services for  the iPad. On a personal note Needle, the musical recording project that I'm part of was able to release Saint Timothy, a seven song EP. I wanted to thank all of those who took the time to share music, ideas, and energy in 2012.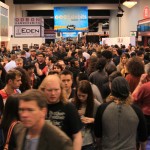 As I look forward to 2013, I am excited for the new year. The first stop will be NAMM later this month. I hope to shoot some more videos at the show. After that comes SXSW. With the Panel Preview Interview series being so popular last year, we'll do it again. I'll also try to do some artist interviews while in Austin. I have a number of gear and product reviews that are in the pipeline. From plug-ins to hardware, expect to see more hands-on posts this year.
That gets us through the first few months of the year. If you have any projects, gear or music that you'd like to share or discuss, please feel free to contact me.