The Noise Room is happy to present the audio and video premiere of Do Not Fear off the upcoming release "You'll Be Safe Forever" from Locust. The full-length release comes out April 16th on European electronic label Editions Mego.
The two Locust band mates Mark Van Hoen and Louis Sherman have accomplished the melding of 50 years of electronic musical history in a beautifully crafted album, with sounds evoking memories of early electronic icons like Delia Derbyshire, through to Tangerine Dream, Eno, Throbbing Gristle, LFO  and beyond.
More about Locust:
You'll Be Safe Forever showcases prime examples of Van Hoen's compulsively hypnotic beats and abstracted pop vocals—already hallmarks of his collected work since 1993 both in his own music and with collaborators Seefeel, Slowdive & Scala to weave a unique sonic tapestry, as inviting as it is intricate. Paired with Sherman's evocative synthesizer improvisations—an immediately visceral element new to Locust—this new partnership has crafted a shattered landscape that bridges two perspectives of progressive movement in electronic music under a single name. "Working with Mark was magic from the first note." says Sherman. "We had written most of the record in just one session improvising." The album was primarily written in Louis Sherman's studio in Bushwick, Brooklyn and completed in Van Hoen's studio in Woodstock, New York. Sherman, an American from Baltimore, comes to the band armed with a vast knowledge of the history of electronic music. This, combined with Londoner Mark Van Hoen's known musical pedigree, and production expertise maps the complete topography of a landscape…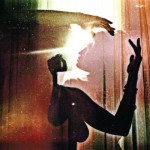 The overall effect of the record seems to promise the contrary — not unlike a haunting dream that wakes you up to a different reality, shrouded in an almost spectral haze. The tracks are instrumental but there are voices everywhere, cut up and tweaked or stretched out, leaving echoes of silence. The overall result, Van Hoen says of the album, is that "the music is more emotional than academic". Locust's new release You'll Be Safe Forever makes you question what you're hearing and feeling all at once. The result is something unquestioningly, mind-bendingly beautiful.
Locust will be playing  at the Editions Mego special event at the De La Warr Pavilion in the UK this May 11, alongside Luc Ferrari, Kevin Drumm, Mark Fell, Fennesz and more (full details here).