Here's a fun Friday music video for you from Small Black. It's their new single, "No Stranger" from their second LP Limits of Desire released on Jagjaguwar. Created by Mandy Mandelstein and Addison Mehr, the video reveals itself slowly and in surprising ways. Two strangers notice each other on a train, but this is not a simple boy-meets-girl story. The "what-if" fantasy (what if I said hello? what if we went on a road trip?) folds in on reality and slowly unravels into wanton destruction and debauchery.
More About Small Black: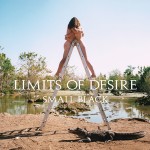 Limits of Desire is Small Black's most accomplished album yet. It's a crystalline realization of a sound they've been building toward since their self-titled EP in 2009. Now a full-time four piece, Josh Hayden Kolenik (keys, vocals), Ryan Heyner (guitar, keys, vocals), Juan Pieczanski (bass, guitar) and Jeff Curtin (drums, percussion), the band have moved way beyond the hazy home recorded sound of their previous releases toward a full-fledged, but still self-produced, clear approach. Where 2010's New Chain was a lesson in maximalist pop, Limits of Desire finds the band trimming their sound to the essentials, yet hitting new and unexpected heights with the addition of live drums, electric guitar and trumpet to the existing Small Black palette.
Tonally the songs sweep and glide over lush keys, bolstered by lyrics that illustrate the semi-abstract moments of lost opportunities and misread signs, hinted at by the cover image. The title track whirls softly, and channels luminaries Tears for Fears and The Blue Nile, anchored by Pieczanski's punchy bass as Kolenik sings: "Other lives droned/ far from the grass where I lay/ each eye stared out the opposite way." As much as the record is about looking for deeper connections, it's also about avoiding real life, if only for a moment–getting out of your own head just long enough to calm down and find perspective.
"Free At Dawn" and "No Stranger" do what fans have come to love Small Black for, only better. They're smart pop bangers tinged with a specific brand of melancholy that slowly build to night-affirming climaxes. While "Breathless" ups the tempo, over synth stabs, with lyrics that tackle apathy and uncertainty with catchy grace: "I'm standing in tomorrow's way/ future's fine/least it seems okay." It paints a concise portrait of a generation struggling with unlimited freedom and malaise.
The band builds on a rich history of synth pop by making a thoroughly modern album, on both the front and back end. One that seeks out cohesion, connection and calm in a world that won't sit still. Limits of Desire doesn't attempt to provide any solutions, but coming to terms with not finding the answers feels infinitely more fruitful.
Tour Dates:
06/18/13 Austin, TX – Red 7*
06/19/13 Houston, TX – Fitzgerald's*
06/21/13 New Orleans, LA – Hi-ho Lounge*
06/22/13 Atlanta, GA – Drunken Unicorn*
06/23/13 Nashville, TN – Exit In*
06/24/13 Chapel Hill, NC – Local 506*
06/25/13 Washington, DC – Rock & Roll Hotel*
06/26/13 Philadelphia, PA – Morgan's Pier*
06/30/13 Brooklyn, NY – Music Hall of Williamsburg*
07/20/13 Denver, CO – The UMS
09/03/13 Pittsburgh, PA – Altar Bar^
09/08/13 New Haven, CT – Toad's Place^
09/09/13 Boston, MA – Royale^
09/10/13 Portland, ME – Port City Music Hall^
09/12/13 Burlington, VT – Higher Ground^
09/13/13 Montreal, Canada – Corona^
09/14/13 Toronto, Canada – The Opera House^
09/15/13 Detroit, MI – Crofoot Ballroom^
* = w/Heavenly Beat
^ = w/STRFKR
For more information, please visit www.small-black.com