Over the past 10 years online videos have become an essential learning tool. From cooking techniques to be repairing my car, video tutorials have become my first stop when figuring out unfamiliar tasks. And after becoming a member of the Pro Tools Expert Blog, I saw how videos could improve my understanding and use of Pro Tools. That's where I discovered Groove 3, a company that produces in-depth training videos specifically targeted to the pro audio community. I've purchased a number of their videos over the years including Trash 2 Explained, Pro Tools 10: Working with Loops, and Melodyne Explained. Most recently I've finished one of their latest tutorial Pro Tools 11 Explained.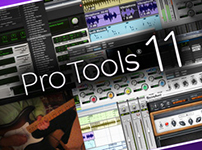 Just so you know, I'm not associated with Groove 3 in any way nor do I receive their products for review, I'm just a satisfied customer. Also, I got to meet a few of the video makers at NAMM this year including Eli Krantzberg who produced Pro Tools 11 Explained. They seem committed to their craft and very engaged with their audience. While I've had some formal training on Pro Tools many years ago with Avid's official classes, I wanted to brush up on my skills and see what the new Pro Tools 11 had to offer.
Pro Tools 11 Explained contains 30 video tutorials with a total run-time of 3 hours and 20 minutes. Each of the 30 videos run between 5 and 13 minutes in length and cover topics such as Playback and Navigation, Quantizing, and Edit Modes and Tools. There's a free sample video called Midi Merge and Loop Record on the Groove 3 website. Once the tutorial is purchased, you have the option to download them, watch them online, or use their new IOS app to watch them on iPad, iPhone and iPod.
This complete tutorial is geared towards beginner and intermediate Pro Tools 11 users. For me, the video training achieved my goals. I was able to reacquaint myself with a few features in Pro Tools that I don't usually use as well as learn some new ways of doing things with Pro Tools 11. Next up is Superior Drummer 2 Explained written by Scott Griggs. Since Toontrack Superior Drummer 2 is one of the early AAX64 plug-ins available, I might as well get the most out of it.
For more information, please visit www.groove3.com