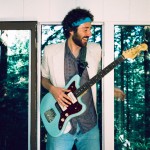 Earlier this year we did our first ever Noise Room Presents show. On the bill that night was Rustangs, Elle Belle, and Sandy's. We received a lot of great comments about Sandy's who, at the time, were putting the final touches on their new release Fourth Dementia. Recorded by Alexi Glickman (Sandy) in garages and bedrooms in the Sunset district of San Francisco,  the new release features the talents of Zack Ehrlich (Sonny & the Sunsets, Vetiver, the Botticellis), Burton Li (Citay, the Botticellis) Ryan Browne (Sonny & the Sunsets, the Botticellis), Blythe Foster (the Botticellis), Jeremy Black (Apollo Sunshine), Nick Aives (Range of Light Wilderness), and Kacey Johansing (Yesway).
"Musicians seem especially drawn to our shows. I imagine it's because they hear the craft that goes into the songs — things that I wonder sometimes if anyone else can hear. I'd like to think there's also a transcendent element beyond voice-leading, harmony, arrangement and production." — Alexi Glickman, April 8 2014
Yuba Diamond is the third track from Fourth Dementia, Sandy's debut album for Thomas Campbell's art collective Um Yeah Arts. It will be released June 3rd, 2014. You can stream the track below:
More about Sandy's:
After releasing the 2008 critically-acclaimed record Old Home Movies with the Botticellis, San Francisco-based Alexi Glickman (Sandy) spent time touring and recording with Little Wings before forming Sandy's in 2012.  Fourth Dementia, his debut album for Thomas Campbell's art collective Um Yeah Arts, will be released June 3rd, 2014.
Um Yeah Arts is a new arts and music collective founded by California based painter, sculpter, photographer and surf/skate filmmaker Thomas Campbell. Campbell has mounted solo exhibitions in New York, Paris, Tokyo, Denmark, The Netherlands, San Francisco, Los Angeles and Morocco. He has made three films, 1999's The Seedling, 2004's Sprout and 2009's The Present. He is also part owner and creative director of a small record label based in Santa Cruz called Galaxia which was established in 1993, and has released records by Tommy Guerrero, Bonnie "Prince" Billy, Peggy Honeywell and The Black Heart Procession. In 2013, Campbell started a new creative platform called Um Yeah Arts which is a nexus for the making of books, music and films.