2011 was the first year that I wasn't fully involved with OnlineRock, a company/website/label that I started back in 1999. I was looking forward to not being tethered to the website and having some freedom to explore other creative endeavors.  At first I didn't think that much had happened in 2011 but looking back on it, it seemed to be a pretty eventful. From house concerts and traveling to books and recording, 2011 was one of the better years. Here are some of my highlights.
Live Music: One thing that I've always wanted to do was to put on a house concert. When Christopher Pappas of Miracle Parade and Mike Bloom were out on tour, they were looking for a place to do one of these shows. I invited some of my friends and the musicians sold some tickets on their website. The night was magical with both artists performing alone and together. One pet peeve that I have when going to shows is that people don't listen to the music. They'd rather talk or be seen. I loved how quiet and attentive everyone was at my home that night. I would look around and see everyone soaking in the music. My heartfelt thanks go out to the artists and the audience for their participation. I'd consider doing another house concert but don't know if it could rise to that level again. This night was definitely the best musical event for me in 2011.
Other shows throughout 2011 were Sonic Youth, Soft Pipes, Scattered Trees, The Low Anthem, The Mermen, Eels, Low and The Antlers. I prefer smaller venues but did go to the Greek Theater in Berkeley to see Portishead in October.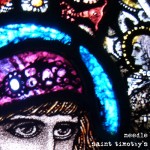 Recording: Although the official release date is January 10th, 2012, my friend Julie and I finally finished a new Needle release entitled Saint Timothy's. We've been working on a number of songs since our last release and earlier this year decided to take the ones we thought would fit with our initial concept and finish them. After we mixed the EP, Kramer mastered the final result and the reviews are starting to trickle in.
"a slow poetic portrayal of sadness and loss" – Migrate Music
"slow-burning raw pop beauty" – Hear! Hear!
"super dreamy" – Flying with Anna
I continued to work with and learn about Pro Tools this year expanding both hardware and software to my home studio. A 1967 Vox hollow-body bass found a new home with me and I had my 1977 Strat refretted. I was a bit nervous by this procedure, as I wasn't sure that I'd be getting the same guitar back. It turned out to be the opposite actually. I can only describe it as old but new at the same time. Refreshed might be a better term?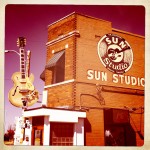 Travel: I usually try to go to South by Southwest each year however, due to some family dynamics I had to cancel my trip. Those same family dynamics lead me to another trip later in the year. I took my foster child to a conference in Memphis, TN unrelated to music. While the conference we attended wasn't too inspiring, the other sights, sounds and tastes of the city were. We got to visit Sun Studios, Graceland and the Stacks Museum. We stumbled into a small club show by Amy LaVere. She was playing stand-up bass and singing a bunch of old blues numbers and while I'm not the biggest fan of this style, her snaky southern charm really worked for me.
Books: I'm always involved with a book. I don't consider myself a fast reader but I did finish about twelve books this year. I mix them between music-related, pop-economics and fiction. Below are some of the music-related ones that I read this year and can recommend:
Life by Keith Richards
The Daily Adventures of Mixerman by Mixerman
A Wizard, A True Star: Todd Rundgren in the Studio by Paul Myers
Just Kids by Patti Smith
Decoded by Jay-Z
Zen and the Art of Mixing by Mixerman
You Must Go and Win by Alina Simone
EXPERIENCED: Rock Music Tales of Fact & Fiction edited by Roland Goity and John Ottey
Other Highlights: A goal for 2011 was to get this website/blog going. I wanted to have a place to post my musical adventures but not be tied down to creating content on a regular bases. As you can see by the frequency of my posts, I've succeeded in that. Random opportunities such as interviewing Pete Turner of Elbow and live tweeting from the SFMOMA for Adam Pendleton and Deerhoof Present BAND event kept this year interesting. I hope 2012 continues on the same path.