I've always liked these types of videos where a band or a musician use a new piece of gear to create music. It serves two purposes. The first is usually to showcase the new product and the second features the music. While there is most likely a lot of behind-the-scene action that we don't get to see, both parties benefit. In this video, Focusrite shows off its new iTrack Solo while recording a track from Peter and Kerry.
From the Focusrite Website:
i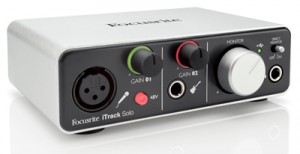 Track Solo provides the best solution for recording your instruments and vocals using an iPad. Featuring a Focusrite microphone input – developed with over 25 years of professional audio experience – and an input to record directly from electric and bass guitars, iTrack Solo is the perfect companion for any singer-songwriter wanting to take their demos to the next level.
Made for iPad
iTrack Solo works with iPad, iPad2 and iPad (3rd generation) and will work with all iPad applications that use the Apple Core Audio driver. The iTrack Solo will also work with PC and Mac computers.
High Quality Mic Preamp
The preamp design on the iTrack Solo is the same design as used in the Scarlett and Saffire audio interface ranges, used and trusted by top musicians and artists around the world.
High Quality Outputs
With a dynamic range of over 105dB, your music will sound amazing going out of the iTrack Solo's professional digital to analogue conversion.
Rugged Metal Unibody Case
The tough aluminium unibody chassis ensures that your iTrack Solo can withstand life on the road, and looks great next to your iPad.
Unique Signal Halos
The gain halos which surround the gain knob for each input provides an easy way to know that the signal you're recording is the right level. It will show green when the signal is at a good level (above -24dBFS). If it turns to red, you know that the signal is too loud and is therefore clipping – if this happens, simply reduce the gain until the halo returns to green.
Direct Monitor Function
Flick the direct monitor switch on the front panel of your iTrack Solo and you will hear what you are recording through your speakers or headphones, without the signal having to go through your iPad or Mac / PC. This avoids the possibility of "latency" (a slight time delay) being introduced by your music app, which can be distracting while recording.
Included software for Mac and PC
Inside the box you'll find a code which will unlock Ableton Live Lite 8, as well as Focusrite's Scarlett plug-in suite. Compatible with all major DAWs (digital audio workstations) on Mac and PC, Scarlett plug-in suite provides EQ, Compression, Gate and Reverb – essential tools for polishing your mix.
For more Information:
www.peterandkerry.co.uk
www.us.focusrite.com
www.us.focusrite.com/itrack-solo