Jason Scheuner from TELEFUNKEN Elektroakustik hits one out of the park as he shows some of the company's mics and products at AES 2012 in San Francisco. TELEFUNKEN introduced a number of items at AES this year including the M81 Reggae Mic, the M80 Solid Color Line, and the new R-F-T Stereo Sets.
From TELEFUNKEN Elektroakustik's Website: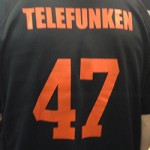 Built to a standard, not to a price, TELEFUNKEN Elektroakustik™ microphones are the world's finest microphones. Ranging from meticulously engineered, handcrafted historic replicas of classic vintage microphones to the R-F-T series of tube condenser microphones utilizing American designed electronics in conjunction with New Old Stock tubes, plus the latest innovations in dynamic microphones including an exceptional dynamic microphone for live and studio vocal performance. The TEC Award winning TELEFUNKEN Elektroakustik™ line of microphones includes the ELA M251, U47, U48, C12, AK47 MkII, AR-51, CU-29 "Copperhead", ELA M260, ELA M270, ELA M250, and M80 dynamic mic. TELEFUNKEN Elektroakustik™ also offers a wide range of accessories and restoration parts and customization, including a vacuum tube replacement for the original TELEFUNKEN VF14 and a unique revolutionary new diaphragm material called Alloy 2213™ for our CK-13™ capsule.
For more information, please visit www.telefunken-elektroakustik.com