2013 was an exciting year for musicians and producers. We saw the release of Logic Pro X and Pro Tools 11 which now has a 64-bit architecture. While there were some issues with plug-in manufactures releasing updates of their products to meet the new requirements, most have caught up. One company that I felt did a tremendous job during this transition was iZotope. They were quick to update a number of their products including  Insight, Ozone 5, and Trash 2. Now iZotope has released Nectar 2, a major update of their award-winning vocal plug-in Nectar.
iZotope says that "Nectar 2 will bring the best of digital innovation and analog character into a complete set of tools specifically for voice." The updated plug-in has eleven modules including Harmony, Plate Reverb, FX, Pitch, Delay, De-Esser, Saturation, Compressors, Gate, EQ, and Limiter. Each module can be combined to work with others or used by themselves. As with most products from iZotope, there is a large number of presets that come with the plug-in to help you quickly and easily start to dial in your preferred sound.
While most of these modules are self-explanatory and items that we've probably used in one way or another, the Harmony module is a real standout. With this module you can add up to 4 additional harmonies to a single vocal track. This can be used to double your vocals or create full harmonies. It also has a midi option so you can "play" harmonies with your controller. Watch the video above to get an idea of how this works.
Let's take a quick look at each of the other modules:
Pitch – This allows you to make subtle corrections to a single vocal take. There is also a new separate Pitch Editor plug-in that comes bundled if you purchase the Nectar 2 Production Suite. There is more information on this below.
Gate – This module helps remove unwanted noise from your track. If you have some background noise such as instrument hum or headphone bleed, the Gate module can help reduce it.
Saturation – This module allows you to increase the amount of harmonic content based on a certain model to add warmth or grit to your track. These models include Analog, Retro, Tape, Tube, and Warm.
EQ – While we all know what EQs do, this one is very powerful. With up to 8 bands and very tight controls, you can pinpoint frequencies accurately and easily.
Compressors – There are two compressors with four different compressor types in this module. They are Digital, Vintage, Optical, and Solid State.
De-Esser – With this module you can reduce the "ess" sounds that are often distracting in a vocal take thanks to the extensive hardware modeling inspired by the DBX 902 De-Esser.
Limiter – Use this module to level off the louder parts of a dynamic track. You can also use the Limiter during tracking to prevent clipping.
FX – This module uses three different effects to tweak your sound in creative ways. They include Distort, Modulate, and Repeat which can be used in series or parallel.
Delay – As with most of the modules in Nectar 2, the built in Delay has a number of nice features including Digital, Tape, and Analog modes. When using the Tape or Analog mode, there is a "Trash" feature that controls the artifacts you get simulating older equipment.
Reverb – This is modeled from the EMT 140 plate reverb and sounds great. With controls such as Pre-delay, Cutoff Filters, Width, and Decay it's easy to dial in the sound you want.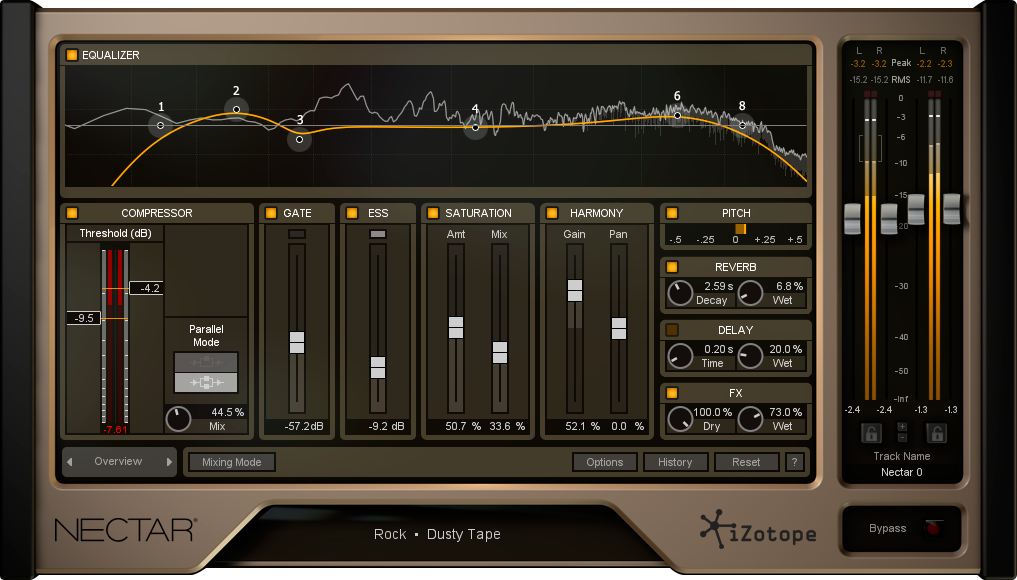 There are two ways to access these modules in the plug-in. In Overview mode, you're able to see most of the modules for quick editing. If you choose the Advanced mode, you'll be able to access each module individually and make more in-depth adjustments. Except for Pitch, each module can be moved to allow you to change the signal flow.
With all of these modules and their ability to be edited, thankfully Nectar 2 has a powerful History function. This will let you go back to an earlier setting as well as store parameters that you might like while editing your sounds. Another nice option is the Mixing or Tracking mode. If you record with the plug-in set to Tracking, it will turn off some of the CPU intensive operations temporarily.
You have two options when choosing the new Nectar 2 plug-in. They are the Nectar 2 Standard Edition ($229 MSRP) and the Nectar 2 Production Suite ($299 MSRP). The Pitch Editor and Breath Control are two additional plug-ins that are included when you purchase the Production Suite. These are completely separate from the Nectar 2 plug-in and can be used directly in your DAW. If you don't already have a pitch editor plug-in, the additional $70 for the Production Suite is well worth the price.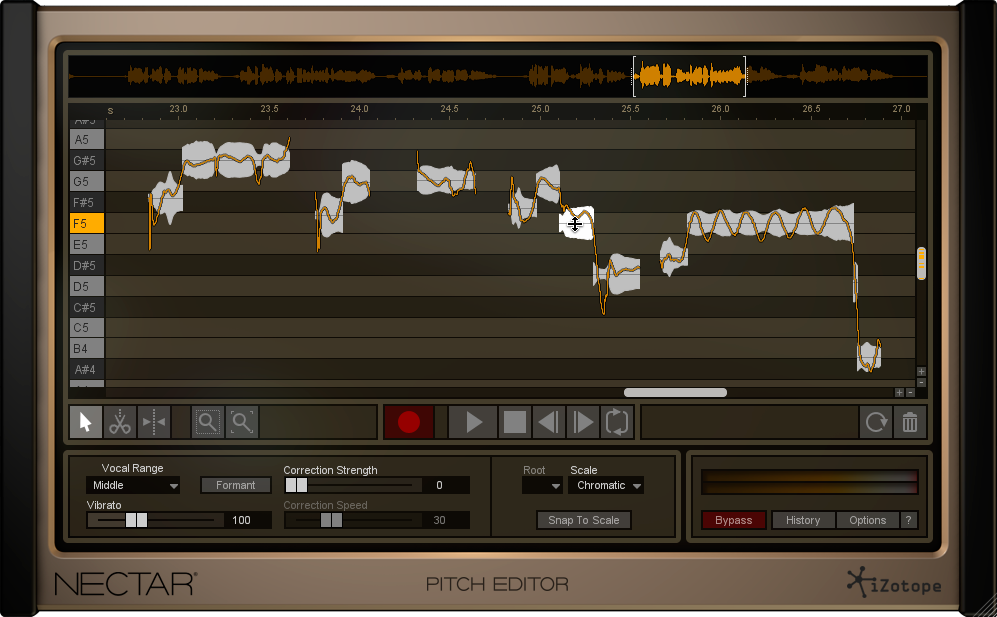 The Pitch Editor plug-in looks familiar and is similar to other editors however it seems cleaner and less clunky than ones I have used. You will need to capture your vocals inside the editor before you do any tuning to them.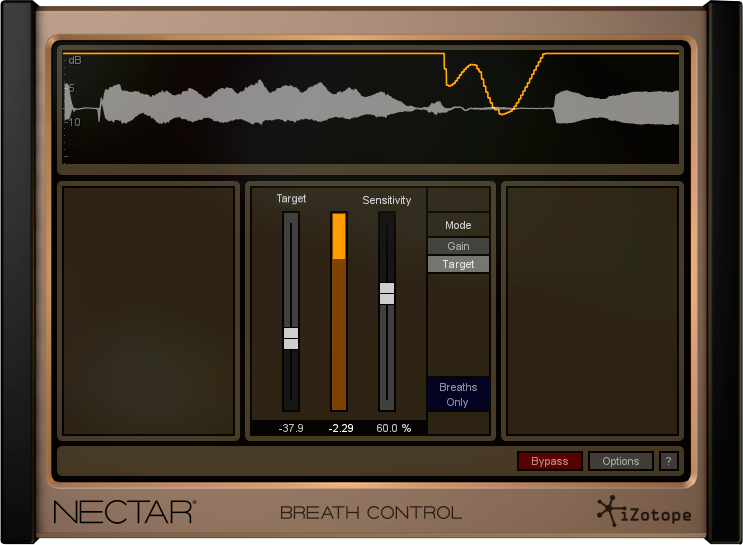 The Breath Control plug-in allows you to easily detect and remove any unwanted breaths during a take and while it can be helpful for a singer, it will also work very well with dialog.
Nectar 2 has pretty much everything I need in one convenient plug-in and since I started using it, I've added it to a number of rough mixes with great results. It's quick and easy to get good vocal sounds. This is important as I don't consider myself a good singer. iZotope is offering a 10 day free trial of Nectar that will work without restrictions.
You can find out more about Nectar 2 and download the trial version at www.izotope.com/nectar