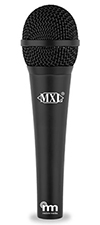 At NAMM 2014 we shot a lot more videos than we usually do thanks to the efforts of John Ganam. While we enjoy shooting videos, we are also musicians who want to check out the latest gear and products on display. To that extent, we try to have a good balance of not carrying too much video equipment, being on our feet all day, and demoing gear, therefore most of the video you see on our site is shot with an iPhone. And while apps such as FiLMiC Pro and MoviePro as well as the built-in iPhone camera app do a fine job on video, audio can be tricky to record – especially at a trade show as loud as NAMM.
I attended a press event at NAMM where MXL Microphones expressed their commitment towards addressing these issues by introducing the MXL Mobile Media Series. The MXL Mobile Media Series is engineered to record high quality audio into mobile devices. When used to record audio for video, the audio quality is a better match for the phone's video. And to paraphrase Neill Barham, the Founder and CEO of Cinegenix who make FiLMiC Pro, "People are willing to put up with poor quality video if the sound recording is good."
We were able to get our hands on MXL's new MM-130 Handheld Microphone and I have to say that it is now my go-to mic for recording events such as trade shows and artist interviews. Two features that stand out to me are the adjustable gain and the selectable omni and cardioid pattern switches. The mic is rugged and feels very solid. One minor drawback is that the supplied cable is only 6.5 feet long making it hard to record wider shots without an extension. That being said, the cable does have a headphone jack attached which helps for dialing in audio levels.
More about the MXL MM-130 Handheld Microphone:
The MM-130 Handheld Microphone is ideal for recording interviews and more using just the mic and your mobile device. The MM-130 works with a variety of cell phones and tablets, including iPhone®, Android™ and Windows®, by connecting to the 3.5mm jack. It can be used for audio only or audio for video applications. The MM-130 has a durable metal body, adjustable gain, and dual capsule. The mic's cardioid pickup pattern targets a subject in front of the mic. The omni pattern captures sounds all around the mic. The microphone includes a detachable XLR to 3.5mm cable with a built-in headphone jack for real time audio monitoring with the appropriate app. The MM-130 can be handheld or placed on a mic stand using the included microphone clip. With clear sound quality and a rugged design, the MM-130 Interview Microphone is perfect for journalists, students, podcasters, and videographers.
For more information, please visit www.mxlmics.com