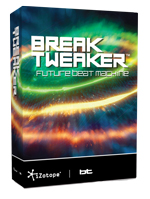 I first saw a demo of BreakTweaker from iZotope at NAMM earlier this year. While I was intrigued by all of the features included in the plug-in, I wasn't sure how it would fit into my music creation process. Initially I saw BreakTweaker as being geared towards EDM producers and it is. But after learning more about the plug-in and using some of the cinematic sample content supplied in the Expanded version, I was able to create atmospheric grooves that may be useful with the new music I'm working on.
As I often do when reviewing a plug-in as deep and complex as this one, I used a training video from Groove 3 called BreakTweaker Explained to get a better understanding of the product. The video consists of 21 tutorials with a run time of over 2 hours and was written and hosted by Eli Kranztberg. My review only touches the surface of what BreakTweaker can do. If you want to get the most out of the plug-in, I'd suggest exploring this tutorial.
According to iZotope, BreakTweaker is not just a drum machine: it's a drum sculpting and beat sequencing environment that blurs the line between rhythm and melody. Futhermore, iZotope says BreakTweaker is for anyone looking to create truly original and dynamic beats, both drum-driven and melodic. It's a new platform that inspires different people in different ways, and there's nothing quite like it out there.
There are three main sections in BreakTweaker; The Sequencer which assembles pattern-based beats, The Sound Generator which defines the sound for each sequencer track, and The MicroEdit Engine which allows you to tweak each note (or step) in a pattern. Let's look at each of these in a bit more details.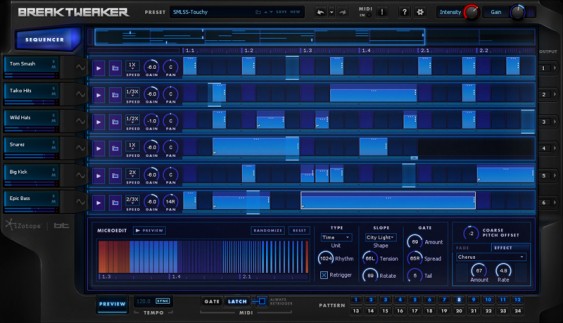 The Sequencer – If you are used to step-based sequencers, this section may look familiar. There are six tracks consisting of 32 steps in which you can build your pattern. You can save up to 24 different patterns that can be triggered via midi. The patterns can be built from a wide variety of samples included in the 2GB Factory Library. By adding one of the Expansion Libraries including Vintage Machines, Cinematic Textures, and Kicks & Snares by Beatport Sounds, you can add more sounds to your collection. Use your own samples to really expand your creativity.
What makes BreakTweaker different from most step-sequencers is that each track and step can be played at different speeds and/or lengths. By repeating the irregular step-lengths, you can create unique isorhythms that evolve as the pattern is played.

The Sound Generator – Each track in BreakTweaker's sequencer has three sound generators that can be used to create custom sounds and textures. In addition to loading either a sample player or a duel-oscillating synth in each sound generator, you have distortion effects, filters, envelopes, and LFO options.
When loading a sample you can "Preview in Context" which means that you can hear the new sample in relation to the other items playing in the pattern. This makes it easy to dial in a sound sample that works perfectly with your pattern. Once the sample is loaded you have the option to adjust the pitch, change the gain, and have it play forward, backwards, or a combination of both.
If you select "Synth" instead of "Sample" as the Sound Generator type, you get a duel wavetable synthesizer. There is a wide variety of waveform presets ranging from simple to complex that can be modulated using the shape slider. You can also add distortion or use the filters to sculpt your sound.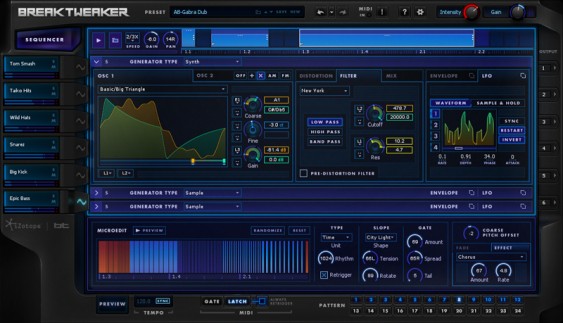 The MicroEdit Engine – Once you've created patterns and have chosen sounds, the MicroEdit Engine lets you slice, chop, and manipulate your audio. This can be done on each individual note or step. There are four ways to edit the note; "Type" allows you to choose the way you want the note to be sliced, "Slope" controls how the slices are placed in time, "Gate" adjusts the silence between each slice, and finally there is "Course Pitch Offset" that applies effects, detuning, and fade options.
It's hard to cover all of the parameters that BreakTweaker has in this review. On top of what I've already mentioned, you can automate nearly everything with your DAW. To get even more control over your sound while using your favorite third party plug-ins, BreakTweaker can easily be set-up for multi-output.  Just route each track from BreakTweaker to an auxiliary track in your DAW then add compressors, EQs, or other plug-ins of your choice.
I feel that iZotope has done it again with BreakTweaker. They've created a plug-in that is musical and creative. It's easy to get lost making rhythms and beats. And although its complex, BreakTweaker is very usable. I mentioned earlier that I might not use this plug-in as often as other ones however,  since learning how to use BreakTweaker, I keep going back and tweaking my beats.
To learn more about BreakTweaker from iZotope and to get a free 10 day trial, please visit www.izotope.com/breaktweaker