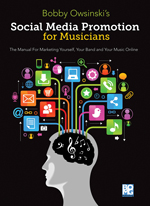 Bobby Owsinski started his career as a guitar and keyboard player, songwriter and arranger, eventually becoming an in-demand producer/engineer. He is a co-founder of Surround Associates and has worked on surround projects and DVD productions for a variety of acts including The Who, Willie Nelson, Neil Young, Iron Maiden, The Ramones, and Chicago among many others. He has also authored 23 books on recording, music, the music business and social media. I read his "The Big Picture Music Production Blog" regularly for tips and ideas. On Friday I received a copy of his two latest books and while I haven't read them yet, I thought I would share some information about them.
Social Media Promotions for Musicians – The Manual for Marketing Yourself, Your Band, and Your Music Online. This book focuses on promoting your work via social networks and how to communicate with your fans and clients in the right way in various channels. The book reveals insider tips and tricks that will help to gain more fans and followers, increase views, and grow ticket and merchandise sales.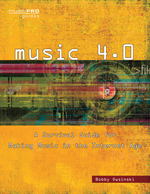 Music 4.0: A Survival Guide for Making Music in the Internet Age is a completely updated version of the best-selling Music 3.0, by Bobby Owsinski. With the addition of fresh interviews from several of today's successful music industry innovators, Owsinski reveals new and proven pathways to success in the modern music world. Music 4.0 is for the musician overwhelmed by the seemingly never-ending options of the fast evolving Internet, and along with some new high- and low-tech tips for inexpensive marketing and promotion, the book answers the following questions, and more:
How are streaming music royalties determined and why is your payout less than you expected?
Why is streaming music considered the savior of the music business by many industry insiders?
How is money being made from YouTube and how you can benefit from its current "Wild West" mentality?
Who are your customers and fans and how can you reach them?
What are the most up-to-date ways of marketing your music in this new world?
Who are the new industry players and why would they want to talk to you?
What's your brand and how do you develop it?
How are Facebook, Twitter, and YouTube best used as marketing tools specifically for your music?
What are the new technologies being introduced that will influence how you sell and market your work?
Included in this new edition is a chapter about the new economics of streaming music, which includes information that simply can't be found in one place anywhere else. Music 4.0 is an aggregation of concepts about the new music business in the Internet age and the information is organized and presented in a way everyone can understand.
For more information, please visit www.bobbyowsinski.com