As someone who enjoys writing and recording music, I don't consider myself to have a great singing voice. Because of this, I often try to disguise and tweak my vocal tracks. There are a few plugins that I use in order to accomplish the task. They include Speakerphone from Audioease and Nectar 2 from iZotope. Melodyne from Celemony is also used occasionally to fix a bad note. When iZotope recently released "Vocalsynth," I knew I'd have to check it out.
According to iZotope VocalSynth is the first ever plug-in to bring together four advanced vocal engines – Vocoder, Polyvoice, Compuvox, and Talkbox – alongside specialized vocal effects and pitch correction. Vocalsynth is compatible with Pro Tools, Ableton Live, Logic Pro X, Cubase Pro, REAPER, Studio One, FL Studio and more.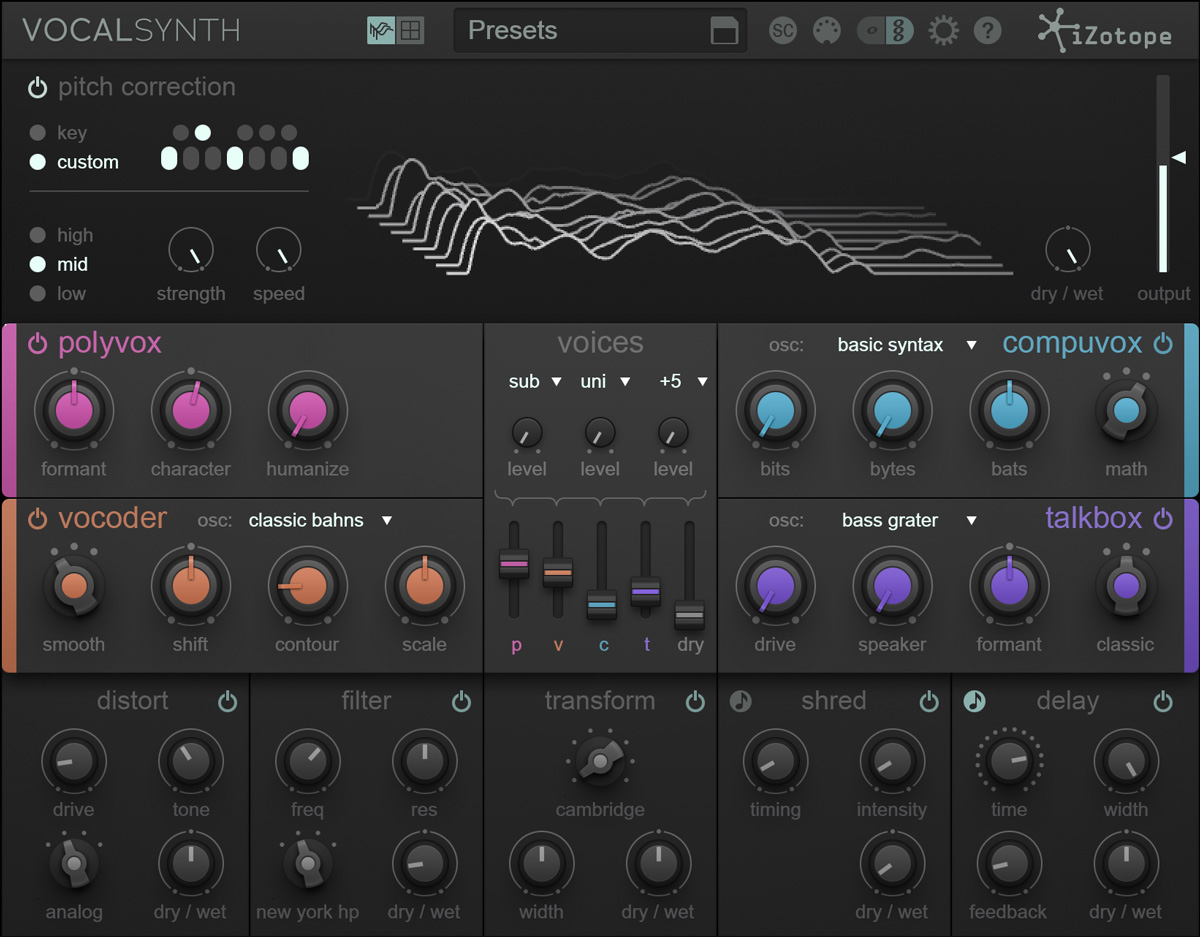 As you can see above, the plug-in is laid out well. It's clean and very intuitive with the four engines underneath the metering window, a mixer in-between the engines, and the effects at the bottom.
The four vocal engines include the Vocoder; which allows you to create robotic effects with its built-in synthesizer and can be controlled with MIDI. The Polyvox; that creates harmonies for your vocals using MIDI or automatic pitch tracking for lush backgrounds and dramatic choirs. The Compuvox; which creates digitized vocals similar to computerized toys from the 80s. Last but not least is the Talkbox; it is able to give your voice an instrument (think Frampton Comes Alive).
Each of the vocal engines can be switched on or off and you can adjust the levels between each of the engine by using the mixer. Except for the Polyvox, the individual engines come with their own presets. In addition there are global presets that control the whole plug-in. There are also five effects modules named only as iZotope could do; Distort, Filter, Transform, Shred and Delay. Furthermore, VocalSynth features automatic pitch correction that lets you do either subtle corrections or something more extreme. Check out the video at the top of the page to hear what it can do.
VocalSynth is a great plug-in to have in your toolbox. And while I don't normally work on the type of music that would shine with the vocal effects produced by VocalSynth, I do have plenty of uses for it. VocalSynth is available now from the iZotope website for $199. As always, iZoptope offers a free 10 demo so that you can try the plug-in out. It's available for PC and Mac and runs as a VST/AU/AAX/RTAS plug-in.