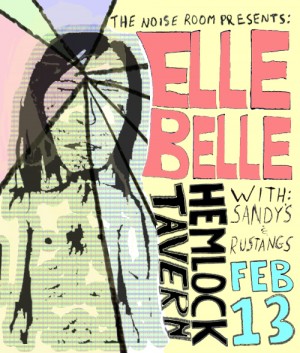 The Noise Room is kicking off 2014 with its first show ever! We are happy to present Elle Belle, Sandy's, and Rustangs live at the Hemlock Tavern in San Francisco, CA on Thursday, February 13th. These three exceptional bands will be playing at one of our favorite venues in the Bay Area. We hope to present more shows in the future so feel free to come out to the show, get involved, and let us know if you would like to play at one. Throughout the month, and as a lead up to the show, we plan to feature each artist in more depth. Below we have a little information about each of the bands as well as some music for you to sample.
Elle Belle is a psychedelic rock band from Los Angeles. The product of mastermind Elle; a multi-instrumentalist who wrote and performed the songs in his Los Feliz apartment. The result is a mishmash of clever hooks, psychedelics, and idiosyncratic production that creates a perfect blend of old and new, fresh and familiar.
Sandy's is a new project from Alexi Glickman. Inspired by Big Star-infused guitar-pop in reverby open tunings, he grew up writing songs and surfing in Santa Monica, and is the son of a choreographer and a scientist. Glickman was previously the singer and guitarist for The Botticellis. Sandy's are currently recording their debut album.
Rustangs started out as a "moped gang" in an Outer Sunset garage and released their first album Garage Club on vinyl in 2009. Members include Ben Young, Brett Simundson, Nelson Saarni and Josh Yoches. Rustang, the band's 2013 release is described by The Bay Bridged as "clearly influenced by surf rock throughout, but with a more laid-back, cooler vibe than you may be used to."
The Hemlock Tavern is located at 1131 Polk St (at Post), San Francisco, CA 94109. For more information, please visit www.hemlocktavern.com