For 2014, I wanted to move forward but instead I find myself going in reverse. And that's a good thing. For the past two weeks I've been having a lot of fun with REV from Output, a new collection of instruments, loops, rises, pads, pulses, swells and more all in reverse that runs on the full version of Kontakt 5 or the free Kontakt Player 5. I was planning to post this hands on review of REV a bit sooner but every time I launched the software, I get lost in the sounds. On the opposite side of that, REV is making its way onto some of the new tracks we're working on for Needle.
According to Output, REV offers users the chance to play instruments in real time in reverse and includes over 1,000 presets spread over four unique engines; Instruments, Loops, Rises, and Timed Instruments. Each engine includes a wide array of filters, stutters and FX that can be used to tweak the sound both in the studio and on the fly. REV works within most major DAWs and all sounds lock to tempo. Take a moment to watch and listen to the promotional video above and you'll see why this library is truly unique.
It may take you some time to download the massive library (over 14 GB uncompressed) but once you install REV you'll see how deep the program really is. Output suggests that you run batch-resave in Kontakt so that REV loads faster. They also recommend that you watch their walk-through videos which can be found on their website. Broken into two parts, the videos takes about 15 minutes to watch but will give you a good sense on how to get started in REV.
As I mentioned above, there are four engines in REV; Instruments, Loops, Rises, and Timed Instruments. And while each engine has a similar look and feel, they all do things a bit differently. Let's take a look at each: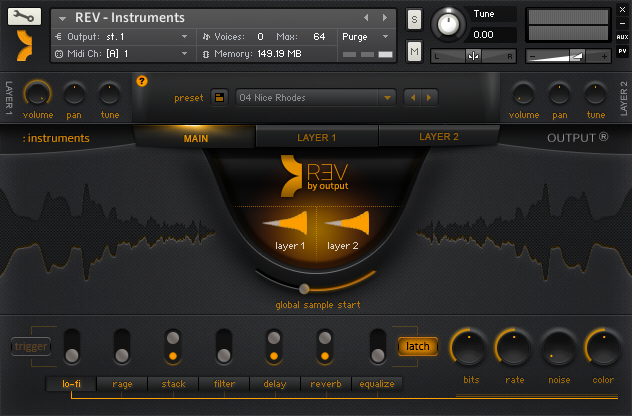 Instruments – This engine allows you to play reverse instruments in real-time including live recorded instruments, pads, pulses, swells, plucks, percussion and more. There are over 450 presets that can be tweaked with stutters, envelopes, and filters along with effects such as reverb, delay, saturation, and EQ.
Loops – There are 15 banks of tempo locked reverse loops including synths, guitars, percussion, pianos, and more which were all recorded live for this engine. All can be played at regular, half, and double speed and influenced by an array of effects to create thousands of loop combo possibilities.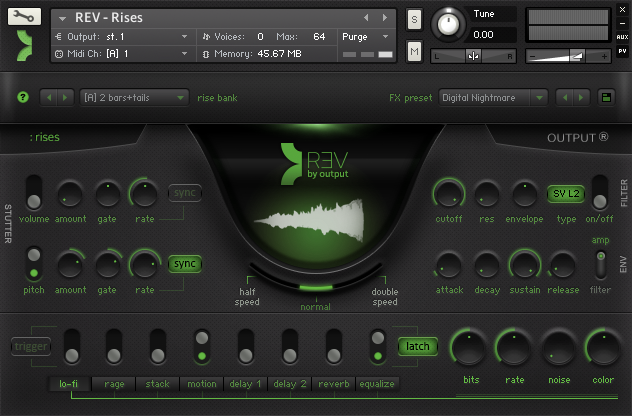 Rises – This engine has the same layout as the Loops engine and includes three separate banks of sounds which are separated by duration and type. The length ranges from 1/4 notes to 4 bars and can be played at half-speed or double. There are three different types of rises; ones with tails, ones that end abruptly, and electro rises that have some sort of effect. It's easy to create perfectly timed rises with this engine.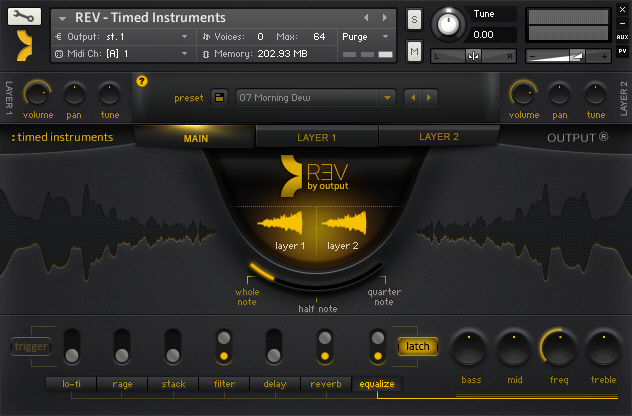 Timed Instruments – While similar to the Instrument engine, this lets you play reverse sounds by whole note, half note, or quarter note durations which is great for adding reverse percussion to a track or creating double elements. Even though it has the same patch types as Instruments, because it's a different engine, it will have a slightly different sound.
I feel that REV is a perfect compliment for the way I develop and compose music. I'm not really looking for sounds that replicate original instruments nor am I a synth wizard creating my own patches. I prefer organic sounds that can be tweaked and incorporated into my workflow. REV does this and more.
For more information, please visit www.outputsounds.com