Earlier this year e-Instruments gave away a couple of copies of their Sessions Horns library. Although I didn't win one, I did discover that they were getting ready to release Session Keys which is two acoustic pianos, meticulously recorded and combined with an inventive feature set. While I'm not much of a keyboard player, my musical partner is, and we like to have a variety of pianos available when making music. After installing Session Keys and playing around with it a bit, I feel that I too can create my own piano tracks that will enhance my sessions.
According to e-Instruments, Session Keys takes a fresh look at the timeless Grand Piano by using a new and innovative approach to create the perfect sound for your productions. Each Session Keys Grand Piano comes with two acoustic characters to choose from; concert and studio. The unique workflow features the flexible Animator riff generator for perfect piano performances, Smart Chord Mode for easy pad controller use, and the unparalleled Pentamorph for creative real-time sound design.
There are two versions of Session Keys; Grand S which uses samples from a Steinway D4 Concert Grand Piano and Grand Y which uses the Yamaha CFIIIS Concert Grand Piano. They each come with over 4GB of samples and can be controlled with Kontakt 5 or the Free Kontakt 5 Player from Native Instruments. Either one can be purchased for $99 individually or you can buy a bundle that includes the pair for $159.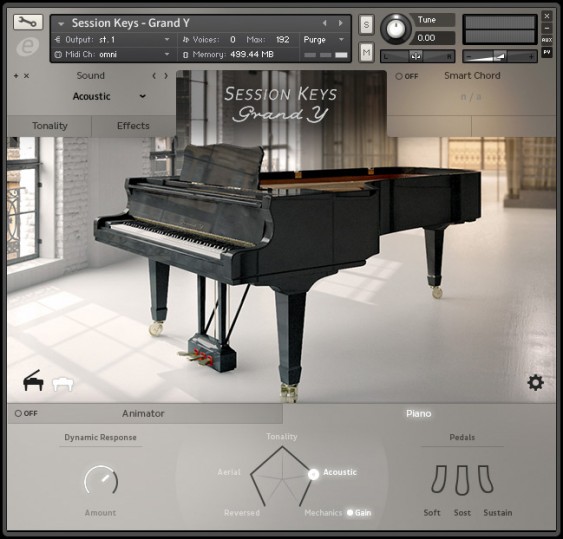 Both instruments are laid out in pretty much the same way however the samples sets are unique for each one. There is a studio mode, which provides a tight, more controlled sound and a concert mode, which lets the ambience of the room come through on each piano. This is indicated with the lid off or lid up depending on your preference. After going through and listening to the two different pianos, I feel that the Grand Y works better in a pop environment while the Grand S has more of that full concert sound. This is just my personal choice and I encourage you to listen to samples at the e-Instrument website and decide for yourself.
When you first launch Session Keys you'll notice that the layout is clean and well thought-out. Towards the upper left of the GUI, there are the Sound presets. These range from standard combinations such as "Acoustic" and "Bright Room" to more effects driven presets such as "Deeper Reverse" and "Parattack." Parameters that change resonance and mechanical noises from the piano along with effects such as reverb, EQ, and delay can be adjusted to create your own sounds and presets. There's even a reverse effect to really add creative options. Finally there is the Pentamorph controller which lets users blend between Mechanics, Acoustic, Tonality, Aerial, and Reverse to dial in custom sounds.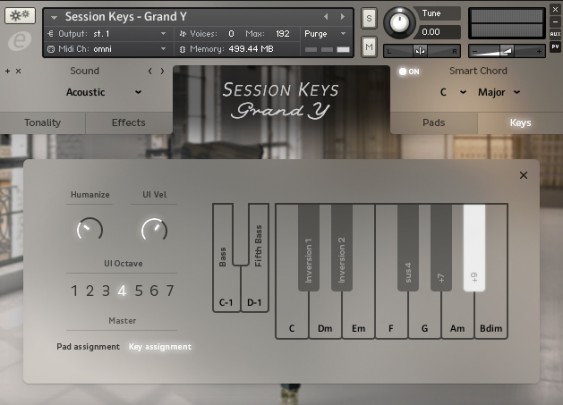 If I were reviewing Session Keys on just the merits of it being a sampled piano library, I would give it a thumbs up. However, there are two additional features that make it so much more usable and musical for me. The first is Smart Chord that lets non-piano players such as myself play full musically-correct chords with one or more fingers. The Smart Chord can also be triggered from a pad controller such as Native Instruments' Maschine. There are very few virtual instruments that offer this feature however it is something that I regularly look for when purchasing VIs.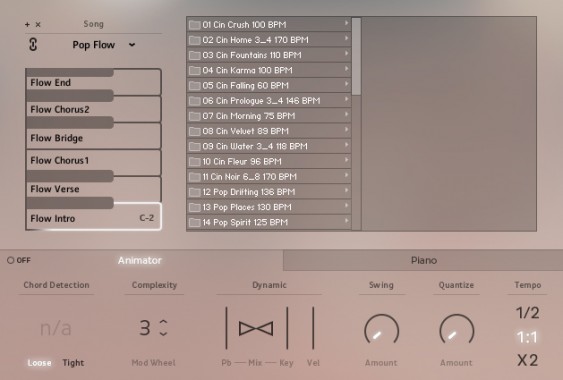 The second feature that really grabs me is the Animator. It consists of a number of piano phrases (or riffs) created in a variety of styles and tempos. The complexity of the phrases can be controlled with your modulation wheel and when combined with the Smart Chord feature, can add some creative piano parts to your sessions. I was a little skeptical of how this would work but after including it into one of my demo sessions, I was impressed by the ease and quality of adding piano to my song. Although you might not get the exact part you're looking for, it really does add more depth than my limited piano playing would usually allow.
I feel that I will use Sessions Keys regularly for my future recordings. The sound quality and ease-of-use as well as the additional music creation features will make it my first choice when selecting a piano. In addition, e-Instruments offers other VIs including Session Horns and Session Strings which also have the Animator built in. I plan on exploring these other instruments as way to add instrumentation that I couldn't easily play myself. As for the future, may I suggest an organ library or an electric piano? Those would both add a lot to my demo sessions.
For more information, please visit the e-Instruments website at www.e-instruments.com