I first discovered e-Instruments when they gave away copies of their Session Horns Native Instruments library earlier this year. Shortly after that I did a review of their new Session Keys Grand S/Y which has now become my go-to virtual piano instument. More recently Native Instruments, in partnership with e-Instruments has released Session Horns Pro, a major upgrade to the above mentioned Session Horns, offering 10 times the power, flexibility, and detail of the original. We've received a copy for review a few weeks ago and have been enjoying it ever since.
According to Native Instruments, Session Horns Pro provides users with an extended and comprehensive sample library of horn sounds, customizable horn sections of up to six instruments, and intelligent play modes for increased playability. Its highly detailed 30GB sample library is ten times larger than the one in the original Session Horns and comes with additional velocity layers and true vibrato samples. The instrument range is expanded to include three saxophones, two trombones, three trumpets, a tuba, and a flugelhorn. There are 38 pre-arranged section presets and the Animator feature has also been boosted.
Session Horns Pro Main Window with Animator
Session Horns Pro plays on Kontakt 5 and the free Kontakt 5 player. After you've installed it and open the Kontakt player, you'll notice that there are three .NKI files. The first is Performance which gives you real-time performance of the horn sections, allows for different articulation and velocity, and grants access to the phrases in the Animator. The second is Key Switch which lets you select up to 9 of 16 available articulations. And finally there is Solo which is similar to Key Switch but only uses one instrument at a time.
When you first load Session Horns Pro, you'll be taken to the main window. There you will notice four slots in the center of the screen that include different horns that make up a section. In the upper left corner you can choose from a number of Section Presets or you can load up to six instruments to create your own custom "Sections." In the upper right hand corner you have a Voicing Assistant that tells the program how the horns should be played. At the bottom of the screen you have an Articulation tab which allows you to create an even more realistic sound. You also have an Animator tab which gives you access horn riffs and phrases.
The Animator is probably my favorite feature of the e-Instruments line of virtual instruments. As mentioned in my Session Keys review, it consists of a number of phrases (or riffs) created in a variety of styles and tempos. In Session Horns Pro there are over 200 ready-to-play, expertly-arranged riffs that can be triggered with up to six phrases at a time via the Key Switch function. Within each of those phrases, you can control the Tempo, Swing, and Humanize functions as well as the starting point of the phrase and the length of it. By using the Smart Chord feature, you can easily change key of the phrases to match your arrangement. As a guitarist who isn't a horn player, the Animator works well for my needs. I was able to add a horn break to a friend's demo that, while not exact, got the feel we were looking for. And it only took me about 20 minutes to arrange the general idea in Pro Tools.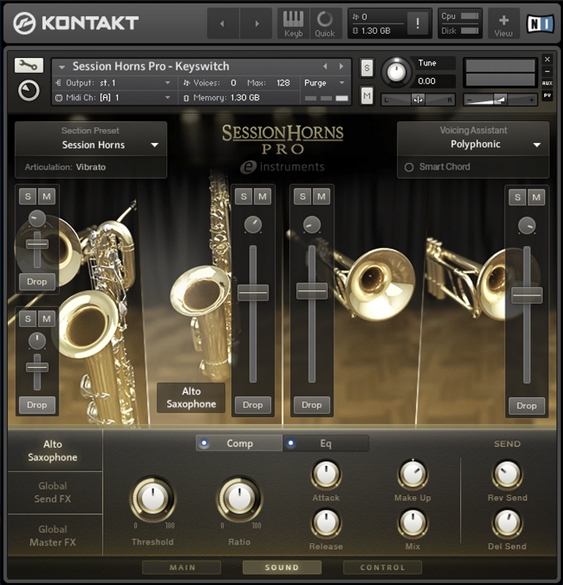 Session Horns Pro Main Window with Sound Mixer
In addition to the main window there are two other windows that are accessible from buttons located at the bottom of the screen. The middle button is titled Sound and once pressed you get a mixer and effects processors. Here you can adjust volume levels and panning of each horn in your section as well as adding EQ and compression. The Global Send FX has a delay and reverb module and the level of each horn in the section can be tweaked to get the perfect amount of effects for your desired sound. The other button is called Control. Here you can change a number of parameters such as velocity, how your pitch wheel works, and how to access the samples.
Session Horns Pro in Action
As I often do when reviewing a product, I purchased the Session Horns Pro Explained training video on Groove 3 hosted by Eli Krantzberg. His tutorials always offer insights and tips that you wouldn't get if you tried to navigate the program on your own. If you really want to maximize how you use Session Horns Pro, I would suggest checking it out.
Session Horns Pro is both easy-to-use and complex at the same time. I found it easy to get up and running right away but was also impressed with the depth and level of adjustments that the instrument has. My only minor complaint is that you are not able to save custom sections after you've created them. However I think it's an oversight as this function is available in Session Keys and other products. If you incorporate horns into your projects, the full version for $299 is money well spent. If you have the original version of Session Horns, you can upgrade to the Pro version for $199. Either way, I think you'll be happy with your purchase.
For more information on Session Horns Pro, please visit Native Instruments and e-Instruments product pages.