From the Doors' Light My Fire and the Animals' House of the Rising Son to the Monkees' I'm a Believer and the Velvet Underground's Sister Ray, the VOX Continental classic organ has made an indelible mark on rock and roll history. Recently an original VOX organ sold on eBay for $1500. Arturia just released their version called the VOX Continental V as a virtual instrument (see our preview post). We were able to get our hands on a review copy and were impressed by the depth of software.
According to Arturia the VOX Continental V is modeled after the of the famous VOX Continental 300 with an added model of the ultra rare Jennings J70. It includes classic stompbox-type modeled effects and microphones along with a guitar tube amp and rotary speaker outputs for vintage live sound. In addition, it offers tight integration with Arturia's acclaimed range of KeyLab professional MIDI keyboard controllers.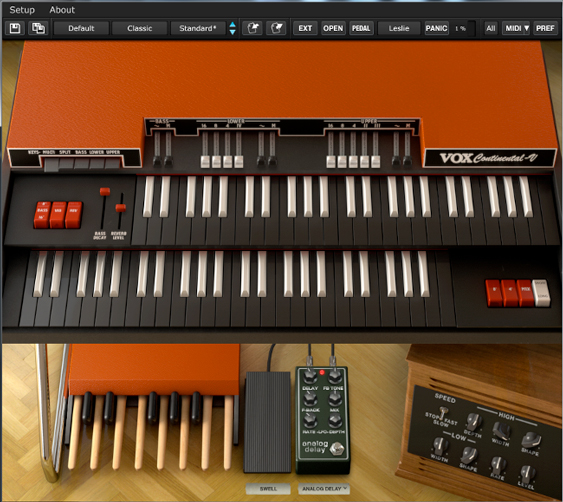 VOX Continental V Standard Mode with Rotary Speaker and Analog Delay
The software is laid out very nicely in standard mode with two banks of keyboards along with the bass pedals. Each of these can be selected and mapped in a variety of ways across your physical keyboard. It's got four harmonic bars for the lower keyboard and five for the upper one. Arturia has added an extended mode that provides additional drawbars for each harmonic that will give you more tonal options. There is also a tremolo button for the upper keyboard and additional percussion options in expanded mode.
While the sound quality of the VOX Continental V from Arturia will speak for itself, the attention and replication of the mechanical aspects of the instrument are equally impressive. The original VOX Continental had individual tuning options for each note and you have that same option with the software. This gives a more realistic feel of an instrument that has been out on the road or hasn't been calibrated. You can also adjust the level of background noise that comes from the keyboard and increase or decrease the key contact timing. This adds to the realism of the instrument.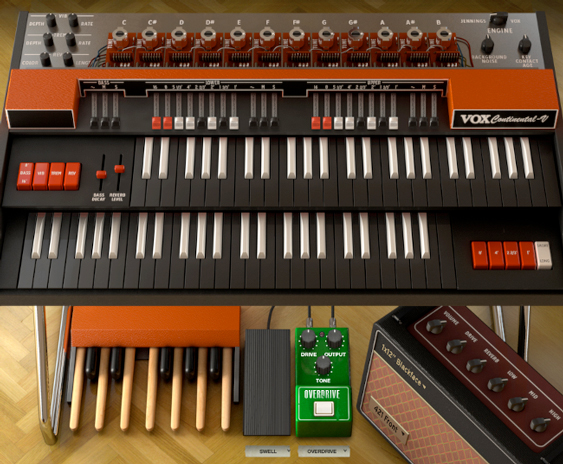 VOX Continental V Expanded Mode with Guitar Amp and Overdrive
When played live most of the original keyboards were plugged into a guitar amp. Arturia has provided amp modeling options with a choice of microphones as an output. They've also included a Leslie style rotary speaker. Each of these can be adjusted to your liking. Of course you can always go direct with no output modeling. There are also a number of stompbox-type effects such as Overdrive, Delay, Chorus, Wah, Phaser, and Flanger that can be added to influence your sounds. Finally there is a convolution reverb with custom classic spring reverbs to use.
As I mentioned previously, I'm a fan of vintage sounds. I can see the VOX Continental V from Arturia fitting in very well with some of the music I'm working on. The software is available in VST, VST3, AU, and AAX for both MAC and PC/Windows. And for those wanting to take this out of the studio, it has a standalone version. I feel the VOX Continental V is well worth the price at $99 US dollars but don't take my word for it. Head over to the Arturia website and download the demo version. Pretty soon you'll be singing "I'm a Believer" too.
For more information, please visit www.arturia.com