We did a Hands On Review of the VOX Continental V from Arturia and fell in love with its ease of use, expanded features and sound quality. And now Arturia announces the availability of V Collection 5 — the latest incarnation of its impressive industry-standard collection of authentic-sounding virtual instruments, expanded and updated to include five all-new additions alongside new versions of 'old favourites' (plus Analog Lab 2).
With no fewer than 17 virtual instruments that recreate hard-to-source synthesizers and classic keyboards, V Collection 5 represents really remarkable value on many musical levels. At an attractive monetary level, it's a no-brainer! Bringing something special to the 21st Century performance and production table, five all-new authentic-sounding additions lead this latest V Collection charge.
B-3 V beautifully recreates the distinctive tones of the B-3 tonewheel organ, one of the most iconic and influential instruments of all time. It truly transcends time and place by bringing this still-sought-after sound to the computer-based music-making masses. Meanwhile, Farfisa V virtually puts players in the driving seat of the sound that drove the hits of several decades as a superb software simulation of the famous Farfisa Compact Deluxe organ. Pushing the physical boundaries of an acoustic piano, Piano V meticulously models the sound and behaviour of one of the most important instruments history has yet thrown up — albeit not as one but rather nine virtual instruments rolled into one! An authentic-sounding software simulation of the Seventies-vintage Stage and Sixties-vintage Suitcase 73-key electric pianos, Stage-73 V is the sound of the Sixties, the sound of the Seventies… the sound of today, the sound of tomorrow! Thanks to Arturia's close collaboration with original Synclavier® software developer Cameron Jones, Synclavier V takes everything the trailblazing Synclavier® could do as the most powerful additive and FM synthesizer ever created and makes it more powerful!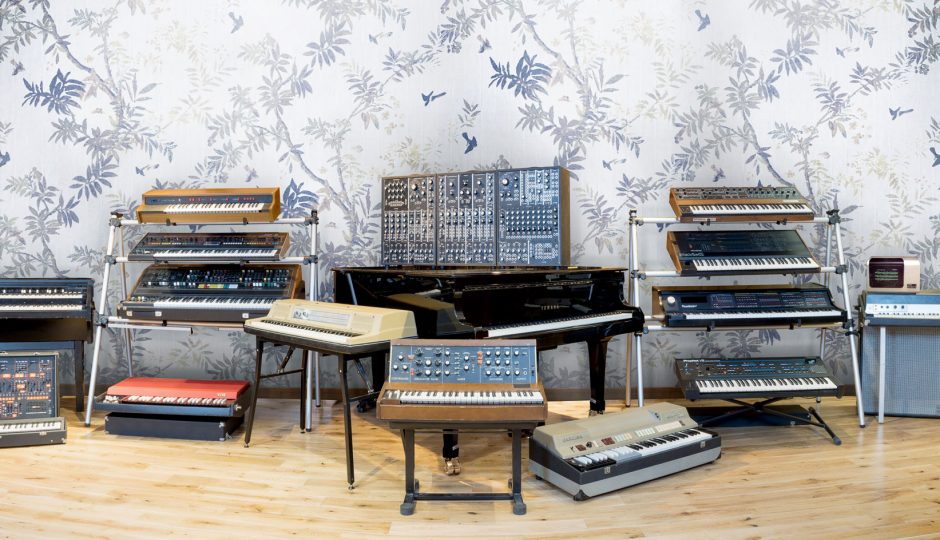 Put it like this: thinking about all those thousands of new sounds and styles in V Collection 5 that are available at the touch of a (virtual) button beggars belief, but Arturia's aim is true… to create the tools that lend a helping hand to today's musicians, taking inspiration from the past to (re)invent the music of tomorrow. The 12 remaining virtual instruments in V Collection 5 — ARP 2600 V, CS-80V, JUP-8V, Matrix-12 V, Mini V, Modular V, Prophet V, and SEM V analogue synthesizers; Prophet VS digital synthesizer; Wurli V electric piano; VOX Continental V electronic organ; and Solina V string machine — do just that, too. All are updated with resizable (Retina/4K-compatible) GUIs that truly have to be seen to be believed! But digging deeper, Native Instruments' new NKS® (NATIVE KONTROL STANDARD) — allowing advanced integration with third-party software instruments — naturally features across the board. As does AU, AAX, VST2, and VST3 compatibility, standalone operation, plus MIDI Learn (to easily map all parameters to a MIDI CC).
Continuing Arturia's quest for absolute authenticity through TAE® (True Analog Emulation), physical modelling, and additional technologies, anyone prepared to dig deep into V Collection 5's treasure trove of hard-to-source synth and classic keyboard recreations will be musically rewarded in kind. Conversely, Analog Lab 2 is a powerful yet painless way of accessing a broad selection of sounds from across V Collection 5 within a single application. As it supports Arturia's many MIDI controller devices natively, it adapts to reflect their physical controls when they are connected… connect with V Collection 5, then, and accept Arturia's helping hand to today's musicians, taking inspiration from the past to (re)invent the music of tomorrow!
V Collection 5 is available to purchase as a boxed version from any authorised Arturia dealer or online as a boxed version or download directly from Arturia for an introductory promotional price of €399.00 EUR/$399.00 USD — rising thereafter to €499.00 EUR/$499.00 USD — here: https://www.arturia.com/products/v-collection/buy (Existing Arturia customers additionally benefit from preferential pricing according to the number of qualifying products that they already own.)
For more in-depth information, please visit the dedicated V Collection 5 product webpage.